Hi Riffmaster Pro User,
We've got some exciting news! You can now win yourself a free custom guitar – handmade by Dennis Zager from Zager Guitar!!
This is thanks to a special giveaway that only users and trial users of Riffmaster Pro can enter!
To Sign up for this Amazing Giveaway –  GO TO https://zagerguitar.com/zager-guitar-giveaway-riffmaster/ – The Giveaway Draw will be on the 29th of May!
For those of you who don't know – Who's Dennis Zager?
Dennis Zager is part of the legendary recording duo "Zager & Evans" who wrote "In The Year 2525," the #1 song of 1969 and the biggest one-hit wonder of any artist at any time in recording history selling over 20 million records world wide.You may have seen Denny featured in Time Magazine, Newsweek Magazine, and The New Yorker. Denny has been asked to make numerous television appearances including The Tonight Show, The Ed Sullivan Show, The Dick Cavett Show, Top Of The Pops, The Music Scene with The Beatles and The Rolling Stones, and he was also one of the few musicians asked to play at Woodstock in 1969 with Jimmy Hendrix, Santana, and The Grateful Dead.
Denny began working on guitars in the late 60's when he was having problems playing because his fingers were sore. He was making mistakes missing chords because his fingers couldn't take the abuse of practicing during the day and performing at night.
Denny spoke with the largest guitar manufacturers in the U.S. and even had his guitars "set up" by guitar luthiers (people who build and adjust guitars) yet he was still dissatisfied with his guitars playability.
Denny finally decided to take matters into his own hands and began modifying his guitar in a way that had never been done before.
Who plays Denny's Guitars and why are they so great?
Today Denny is recognized as one of the premier guitar builders in the USA. He's spent over 50 years refining his "Science" to a level that professional musicians and guitar builders consider absolutely astounding.
His guitars are played by top professionals such as:
Bruce Springsteen's Band Founding Member Garry Tallent
Garth Brooks guitarist Mark Greenwood
Johnny Cash guitarist Dave Roe
Celine Dion Lead Guitarist Andre Coutu
Blood Sweat & Tears Tom Bowes
Hank Williams' and Loretta Lynn's Daughters
and many more….
Watch Jett Williams and Cissie Lynn play one of Denny's guitars on YouTube: https://youtu.be/n2-9z6TRU1I
What can you win?
By entering in the giveaway you get a chance to win an exclusive Zager Easy Play Custom guitar and a deluxe accessories package!
The Prize package includes:
Zager Easy Play Custom 50 Series Acoustic Guitar $795
Zager Pro ABS case with digital humidity system $195
Zager lifetime lesson library package $199
A years worth of Zager EZ-Play custom guitar strings $99
A years worth of Zager Pro Carbon guitar picks $43
A Zager handmade padded leather embroidered strap $48
A Zager pro custom capo $39
This Package has a total Value of $1,718!!!
Don't forget to sign up before the 29th of May to take part! Go to https://zagerguitar.com/zager-guitar-giveaway-riffmaster/ and enter your details now!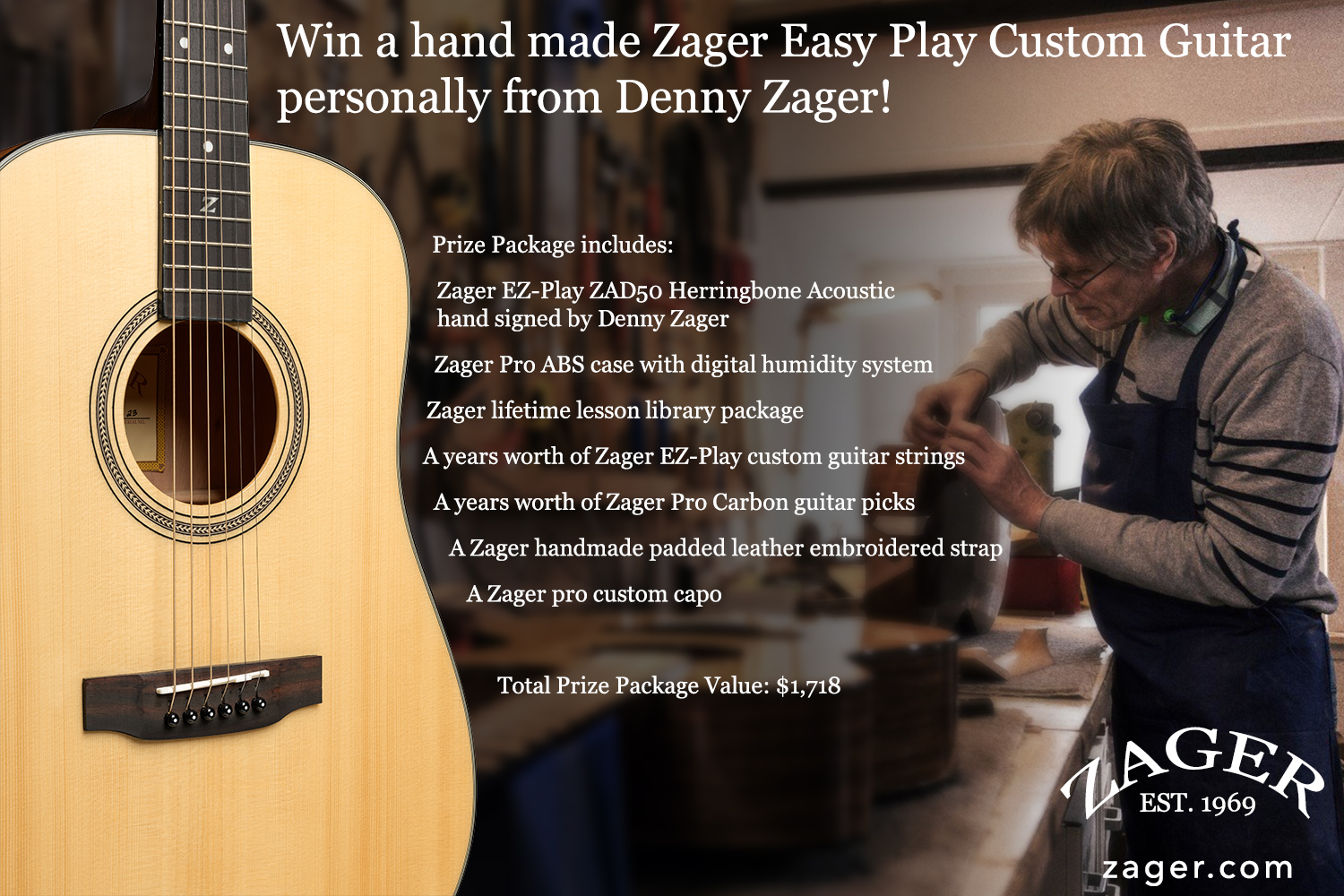 We hope you'll be the lucky winner of this fabulous guitar and will enjoy playing it for many years to come!
Best,
Team Riffmaster Pro
https://riffmasterpro.com